My Little Pony Friendship is Magic Wiki:Workshop/Ahuizotl
Talk

0
799pages on
this wiki
| | |
| --- | --- |
| | This Workshop page is a work in progress. Anyone can add to it. |
Ahuizotl is a character in the Daring Do book series, appearing in the episode Read It and Weep and the upcoming episode Daring Don't. He appears as an antagonist to the book series' main character Daring Do.
Design
Ahuizotl has an elongated dog-like head, except for his eyes, which are positioned over his nose at the end of his snout. He walks on all fours, with dog-like hind limbs and ape-like forelimbs, and a long monkey-like tail with a hand on its end. Ahuizotl has a tuxedo style coat, having dark blue fur over most of his body, while his stomach, lower jaw and limbs are of a lighter blue. Ahuizotl wears golden colored jewellery, such as a necklace, a single ear ring, and three bracelets, one for each foreleg, and one around his tail's wrist.
His overall appearance and name mirror the mythical creature Ahuizotl from Aztec culture.
Depiction in the series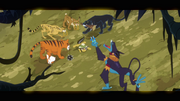 Ahuizotl makes his debut in Read It and Weep, appearing in the latter half of the episode as a literary antagonist to Daring Do.
He takes the sapphire statue that Daring Do had obtained at much personal peril. With Daring Do having fallen, with his hand at the end of his tail, he blows a cat-shaped whistle. The whistle makes a whistling and meowing sound, summoning a tiger, a cheetah, a lynx, and a panther from the bushes. Ahuizotl laughs maniacally in victory.
Ahuizotl's next appearance in the episode sees him by an altar-bound Daring Do, continuing to gloat. Daring says, "You won't get away with this, Ahuizotl", and he replies, "But I already have." He pulls a lever on the wall, waves goodbye to Daring Do, and departs with his cats, leaving Daring to deal with spiked walls, spiders, cobras, and quicksand.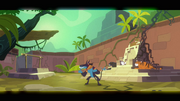 In the episode's penultimate scene, Ahuizotl is seen petting a white house-cat and proclaiming his victory. As he laughs maniacally and holds up the sapphire statue with his tail-hand, Daring Do swoops down on a vine and snatches the statue from him. Daring Do gallops away, and Ahuizotl cries out "Curse you, Daring Do!"
Ahuizotl is set to appear in the upcoming episode Daring Don't.
Merchandise
Ahuizotl appears on multiple posters, including the Chaos is Magic and Season 2 posters and the fan-designed WeLoveFine art print "Legends of Equestria".
Series 2 of Enterplay's trading cards includes an Ahuizotl card, #35. The back of the card states "Daring Do faces a lot of dangers as a treasure hunter, but Ahuizotl is the stuff of legends! Not only can he control wild panthers, tigers, and adorable household kitty cats, he creates the most devious traps ever designed by villainous hands! Yes, that's right—spikes, quicksand, crushing walls, spiders, and snakes! (Why did it have to be snakes?) With Daring Do out of his way, the world would be his to destroy, but somehow she always saves the day. "Curse you, Daring Do!"
Quotes
"You thought you could evade me and capture the relic for yourself, but you are sadly mistaken, Miss Do. And now, you shall meet your doom!"
"With Daring Do out of the way, the world will suffer mightily at my hands. I am victorious!"
— Read It and Weep
Gallery
Season two
Season four
Merchandise
References
↑ Brian Drummond (2013-01-24). I'm Ahuizotl.. Retrieved on 2013 January 24.
↑ Crystal Williams (2013-11-22). Microsoft Word - My Little Pony Episodic Storyline Ep404_12-07-13_FINAL.doc. Retrieved on 2013 November 23.
↑

rainbow dash finds danger in her own temple of doom when she tries to help her favorite author a.k. yearling, on "my little pony friendship is magic," dec. 7

. Discovery Press Web (2013-11-22). Retrieved on 2013 November 23.