All Bottled Up is the second episode of season seven of My Little Pony Friendship is Magic and the one hundred and forty-fifth overall. Notably, this is the first season premiere to not be a two-part episode.
Production
This episode is to be included in the Shout! Factory DVD My Little Pony Friendship Is Magic: Twilight And Starlight.[1]
Summary
"While the Mane 6 are on a friendship retreat, Starlight Glimmer loses Twilight Sparkle's friendship map. Afraid her anger might get out of control, Starlight Glimmer casts a calming spell while the ponies search for the lost map."[2]
Gallery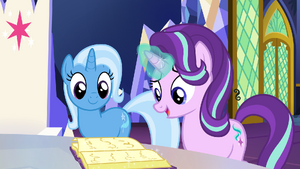 References
↑ My Little Pony Friendship Is Magic: Twilight And Starlight. Shout! Factory. Retrieved on 2017 February 16. Archived locally.
↑ Jared Albert (2017-03-15). New Family Bonds and Magical Friendship Adventures Await in Discovery Family's My Little Pony: Friendship is Magic Season Seven Premiere on Saturday, April 15 at 11:30a/10:30c. Discovery Family Channel. Retrieved on 2017 March 15.
Season seven
Episode 1
Celestial Advice
Episode 2
All Bottled Up
Episode 3
A Flurry of Emotions
Episode 4
Rock Solid Friendship
Episode 5

Episode 6

Episode 7

Episode 8

Episode 9

Episode 10

Episode 11

Episode 12

Episode 13

Episode 14

Episode 15

Episode 16

Episode 17

Episode 18

Episode 19

Episode 20

Episode 21

Episode 22

Episode 23

Episode 24

Episode 25

Episode 26

Ad blocker interference detected!
Wikia is a free-to-use site that makes money from advertising. We have a modified experience for viewers using ad blockers

Wikia is not accessible if you've made further modifications. Remove the custom ad blocker rule(s) and the page will load as expected.