Applebuck Season
is the fourth
episode
of
My Little Pony Friendship is Magic
, season one. In this episode, with her big brother
Big McIntosh
hurt,
Applejack
volunteers to harvest the apple trees in
Ponyville
all by herself. Hasbro started packaging a DVD of this episode with certain pony toys in January 2012.
[2]
Production and development
Edit
Originally, the episode involved "applebumping", with Applejack's loss of acuity resulting from using her head to bump apples off trees. The concept was dropped and replaced with "applebucking" (kicking the trunk of apple trees to knock the apples off the trees).[3] Long before the episode reached the animation process, Applejack attempting to help Rarity was cut, due to time and being repetitious; writer Amy Keating Rogers recalls it having been lost in the second draft.[4][5]
The most dependable of ponies
Edit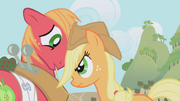 At
Sweet Apple Acres
,
Applejack
and
Big McIntosh
contemplate the huge apple harvest awaiting them. Since Big McIntosh has been injured, Applejack vows to harvest all the apples by herself, despite her brother's warning that it is a huge task for just one pony.
When Applejack is bucking the apple trees, she sees a cattle stampede heading towards Ponyville. She diverts the stampede away from Ponyville in the nick of time with the help of her dog, Winona. Impressed by Applejack's loyalty and reliability, the citizens throw a ceremonial party in her honor. At the ceremony, Twilight Sparkle tries to give a speech, but she is interrupted by Rainbow Dash, Pinkie Pie, and Fluttershy, who express happiness at the prospect of working with Applejack on various tasks in the near future. Exasperated, Twilight gives up on finishing her speech when the mayor steps up to deliver a little speech of her own. Applejack arrives late to the ceremony, carrying two baskets laden with apples on her back. She is visibly exhausted and has bags under her eyes. She goes onstage to receive her trophy, but is distracted by her distorted reflection in the trophy's surface. A concerned Twilight finds Applejack and learns that "Applebuck Season" is when the apples must be harvested. Also, Applejack's large family only stayed for the family reunion (in the first episode) and are elsewhere in Equestria dealing with their own orchards. Twilight offers to help, but Applejack stubbornly refuses. 
The catapult
Edit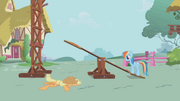 Having promised to help out her friends, an exhausted Applejack ends up hindering them. Rainbow Dash requests Applejack to jump from a high platform onto one end of a catapult, so Dash can be launched into the air to perform aerial tricks. Applejack's vision is blurry from fatigue and she keeps missing her end of the catapult. Annoyed, Dash wonders if Applejack is really Ponyville's best athlete. Applejack succeeds in one last attempt, but the unprepared Pegasus is sent flying onto Twilight's balcony. Twilight guesses that Applejack is involved and returns to Sweet Apple Acres to offer help. Applejack has difficulty hearing after hitting her head on a branch, but still declines. 
"Baked bads"
Edit
Later, Applejack bakes muffins with Pinkie Pie at
Sugarcube Corner
while Mr. and Mrs. Cake are away. Her fatigue causes her to misunderstand her friend's instructions, and she substitutes potato chips for chocolate chips, regular soda for baking soda, a cup of sour lemon juice for a cup of flour, and earthworms for wheat germ. Pinkie Pie hands out the muffins to a crowd of ponies, one of whom is
Derpy
. She exclaims "Muffins!", making it her first line on the show, although
Minuette
's and
Sea Swirl
's mouth movements also match the line.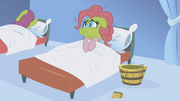 The scene wipes into a sick-tent where many ponies are lying sick from eating the baked goods, which Pinkie Pie calls "baked bads". Spike, however, gleefully eats the discarded muffins, even one with a live worm wriggling in it.
AJ is once more offered help from Twilight, and once more she refuses. Twilight tries to reason with her and says, "Not to upset your apple cart, but you need help." Twilight is annoyed at Applejack for being "as stubborn as a mule", and says "No offense." to a nearby mule.
Bunny census
Edit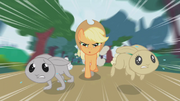 Applejack heads off to her final task. She meets Fluttershy in the forest to help round up baby rabbits for Fluttershy's bunny census. Fluttershy specifically tells Applejack not to scare them. However, Applejack's rough attitude and Winona's barking frighten the timid bunnies. Applejack and Winona corner the terrified bunnies, who freak out and stampede into Ponyville, where they eat most of the town's plants, ruin gardens and make Fluttershy's task even harder to finish. Twilight sees this and decides to confront Applejack once and for all.
Applejack finally accepts help
Edit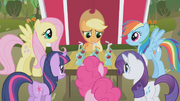 At the orchard, Twilight tells Applejack that her stubbornness caused as many problems with her friends as with her, and that she really needs help. Applejack thinks she's finally finished, but Big McIntosh suddenly arrives to point out that she only gathered
half
of the harvest. After fainting from shock and exhaustion, she wakes up to hear Twilight appreciate how reliable she normally is, but that she should set her pride aside. Applejack finally gives in and begs for her friends' help. Twilight's magical abilities and her friends' hard work make the harvesting go much quicker, and Applejack serves them apple juice when they take a break. Applejack thanks them for their help, and apologizes for causing so much trouble. Twilight realizes that it is just as okay to accept help from friends as it is to give help. Spike comes by to offer the worm-filled muffins he found in the garbage, which the ponies refuse to even touch, and the friends walk away in disgust.
For more quotes, see the episode's transcript.
Applejack: Are you sayin' my mouth is makin' promises my legs can't keep?
Big McIntosh: Eeyup.
Applejack: Why of all the... This is your sister Applejack, remember? The loyalest of friends and the most dependable of ponies?
Big McIntosh: But still only one pony, and one pony plus hundreds o' apple trees just doesn't add up to...
Applejack: Don't you use your fancy mathematics to muddle the issue!
Rainbow Dash: Did you see Applejack's slick moves out there? What an athlete. This week she's gonna help me with my new flying trick, and I know it's gonna be so awesome.
Twilight Sparkle: Now, if I can just make a point without being inter--
Fluttershy: Twilight?
Twilight Sparkle: ...--rupted!
Twilight Sparkle: Anyone else? Anyone? No? Well then, as I was trying to say... UGH! Never mind!
Rainbow Dash: Applejack, what the 'hay' is going on? I mean, I thought I was working with "Ponyville's best athlete".
Applejack: Heh heh... Here I go!
Rainbow Dash: Wait, Applejaaaaack!
Applejack: You're welcome!
Twilight Sparkle: Oh no! What happened?
Nurse Redheart: It was a mishap with some of the baked goods.
Pinkie Pie : No... not baked goods. baked... bads...
Twilight Sparkle: AJ, I think you're beating a dead... tree.
Applejack: I knew that.
Twilight Sparkle: Ugh. That pony is as stubborn as a mule. No offense...
Mule: None taken.
Rose: The horror, the horror.
Lily: It was awful.
Daisy: A disaster. A horrible, horrible disaster.
Twilight Sparkle: All right, Applejack. Your apple-bucking hasn't just caused you problems. It's over-propelled Pegasus, practically poisoned plenty of ponies, and terrorized bushels of brand-new bouncing baby bunnies. I don't care what you say, you need help!
Applejack: I harvested the entire Sweet Apple Acres without your help. How do you like them apples?
Big McIntosh: Um... How do you like them apples?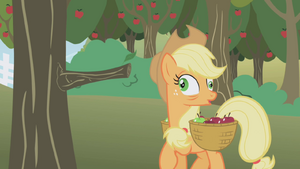 References
Edit