Ad blocker interference detected!
Wikia is a free-to-use site that makes money from advertising. We have a modified experience for viewers using ad blockers

Wikia is not accessible if you've made further modifications. Remove the custom ad blocker rule(s) and the page will load as expected.
Bad Counter Spell is the fourth of eleven songs featured in My Little Pony Equestria Girls: Rainbow Rocks. Twilight Sparkle writes and sings the song in hopes of using it to break the Dazzlings' spell on everyone at Canterlot High School, but its off-key vocals and questionable lyrics have little magical effect. The first portion of this song is usually cut when the film is aired on the Discovery Family channel to allow the 90-minute-with-commercials airtime.
Development
Prior to the film's release, Meghan McCarthy teased on Twitter that the song was the "best worst" song that she and Daniel Ingram had ever written;[3] Ingram later added that the song was a "masterpiece-of-cr*p".[4]
Lyrics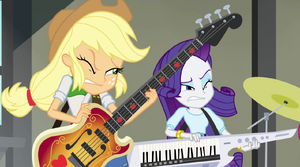 [Twilight Sparkle]

[singing slightly off-key]
Hey, hey, listen
[feedback]
We've got a message for you
We're not all alike
But our friendship is true
Yeah, we're really different
But we still get along
So hey, hey, listen to our song
You may think you're in control
But we're here to prove you wrong
With our friendship and our music
With the power of our song
Gonna stomp our feet, clap our hands
With the magic of friendship
Gonna stop your evil plan
References