Bill Neigh


Bill Neigh in Trade Ya!
Kind
Earth
Sex
Male
Occupation
Professor
Other links
Bill Neigh
is a male
Earth pony
professor with a gray coat, white mane and tail, and blue eyes. He appears in the episodes
The Crystal Empire - Part 1
and
Trade Ya!
He is unnamed, being called simply "Professor" in the
credits
, but he is named in
merchandise
and
other depictions
.
Design and development
Bill Neigh shares his mane style and glasses design with S05E07 Unnamed Earth Stallion #0 and his color scheme with "Sterling Silver". On June 11, 2016, Jim Miller was asked "Was that an Alton Brown-inspired pony? pic.twitter.com/gvyxWLS3i0" and answered "Not specifically."[5] His name is a play on Bill Nye.
Depiction in the series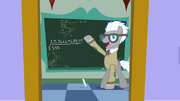 Bill Neigh first appears during
The Failure Song
in
The Crystal Empire - Part 1
. He is seen in a
Canterlot
room that matches the design of the
School for Gifted Unicorns
room shown in
The Cutie Mark Chronicles
. He checks
Twilight Sparkle
's recitation of the square root of 546 being 23.36664289109 and subsequently proclaiming "She is correct!" The episode's ending credits mistakenly credit Andrew Francis for the voiced role;
[6]
Jayson Thiessen
and
Daniel Ingram
have stated that he is voiced by Jayson Thiessen.
Bill Neigh later appears in Trade Ya!, managing a stall at the Rainbow Falls Traders Exchange and appearing at several points throughout the episode; in two such shots, he is seen conducting trades with Joe. He makes some background appearances in Spice Up Your Life
Appearances
Times are approximate.
Season four
1
None
2
None
3
None
4
None
5
None
6
None
7
None
8
None
9
None
10
None
11
None
12
None
13
None
14
None
15
None
16
None
17
None
18
None
19
None
20
None
21
None
22
0:36 - welcoming Princess Twilight to the Traders Exchange; 3:13, 5:43, 8:59, 11:45, 13:33, 14:02 - managing a stall at the Traders Exchange; 8:03, 12:19 - trading with Joe
23
None
24
None
25
None
26
None
Other depictions
On My Little Pony Micro-Series Issue #7 pages 18–19, Bill Neigh appears at the Ponyville Flea Market.
Bill Neigh is a playable character called "Professor" in Gameloft's mobile game, added to the iOS version of the game on December 9, 2013 and to the Android version on December 17, 2013. His in-game description states "Professor is a very smart earth pony with a molecule for a cutie mark. He always has some square roots to calculate!"
Merchandise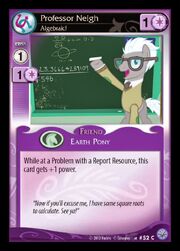 In Enterplay's
collectible card game
, Bill Neigh is named on his card, the
Gen Con
Indy 2013 demo version of which names him "Bill Neigh" with a trademark symbol and the α #52 C and α #ƒ21 versions of which name him "Professor Neigh". All three versions of the card attribute to him the quote "
Now if you'll excuse me, I have some square roots to calculate. See ya!
"
Quotes
"She is correct!"
"Now if you'll excuse me, I have some square roots to calculate. See ya!"
— Enterplay collectible card game Gen Con Indy 2013 demo card of Bill Neigh and α #52 and α #ƒ21 cards of Professor Neigh
Gallery
See also
References