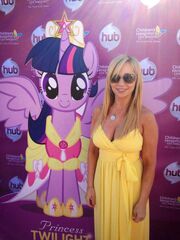 This is a list of voice actresses and actors, or cast who have voiced characters in My Little Pony Friendship is Magic. Please only list verifiable entries, and put speculative entries in notes or in the comments section. The list is sorted by surname, then by character name. The credit is for speaking voices, or singing voices if noted in parentheses. Season and episode tags are specified for any character that has more than one voice actor (when appearing more than once) or when there is no identifying name. Please do not use sites like IMDb as sources. For verification, every page linked to for a character listed here should contain a reference for the voice if it is not listed in episode credits.
English
Rena Anakwe: Sapphire Shores
Ashleigh Ball: Applejack (speaking, singing), Apple Dumpling, Apple Rose, Cherry Berry (S04E02), Crystal Pony (S03E12), "Male Applejack", Nurse Redheart (S01E04), Rainbow Dash (speaking, singing), Salespony (S03E13), the buffalo that says "If you say so, Spike. Catch ya later, bro," two of the nurses, one of the background dragons in Dragon Quest
Kathleen Barr: "Lucy Packard" (S01E16), Queen Chrysalis (speaking, singing), Trixie
Alexandra Carter: Twist
Garry Chalk: Fido
Shannon Chan-Kent: Pinkie Pie (singing), "Roma" (S03E04), Silver Spoon
Choirs (all singing credits only):
Claire Corlett: Sweetie Belle (speaking, singing season 4 onward)
Richard Ian Cox: Snails
Michelle Creber: Apple Bloom (speaking, singing), Sweetie Belle (singing, seasons 1-3)
Michael Daingerfield: Braeburn (S01E21)
Trevor Devall: Announcer (S02E22), Fancy Pants, Hoity Toity, Iron Will, Thunderlane, "Vance Van Vendington"
Michael Dobson: Bulk Biceps, Dr. Caballeron
Patricia Drake: Ms. Peachbottom
Brian Drummond: Ahuizotl, Caramel (S01E26), Dr. Hooves (S01E12), "Dumb-Bell" (colt), Filthy Rich, "Fuzzy Slippers", "Hippocrates", Lucky Clover (S01E26), Mr. Cake, Noteworthy, Sheriff Silverstar, Uncle Orange
Brynna Drummond: Babs Seed
Kazumi Evans: Rarity (singing)
Andrew Francis: Crystal Pony, Crystal Pony #4, Lucky Clover (S02E25), royal guard (S03E01), royal guard (S04E01), royal guard #3 (S04E01), Shining Armor, "Steamer"
Maryke Hendrikse: Gilda
Daniel Ingram: (season 4)
Britt Irvin: Lightning Dust
Terry Klassen: S03E08 Unnamed Earth Stallion #1
John de Lancie: Discord
Andrea Libman: Apple Leaves, "Cadet #1" (S03E07), Daisy (S02E08), Fluttershy, Pinkie Pie (speaking, occasionally singing), Pinkie Pie's imaginary friends, Pumpkin Cake, "Spectator #2" (S03E04), Twinkleshine (S02E25)
Erin Mathews: Little Strongheart
Blu Mankuma: "Flutterguy"
Britt McKillip: Princess Cadance (speaking, singing)
Scott McNeil: Chief Thunderhooves, Flam (speaking, singing)
Kelly Metzger: Spitfire (all but S01E16)
Jim Miller: King Sombra
Peter New: "All Aboard", "Atlas", Big McIntosh, Caramel (S02E15), "Doctor Stable", Half Baked Apple, Jet Set, Magnum, royal guard #2 (S04E01), "Special Delivery" (S04E01)
Richard Newman: Cranky Doodle Donkey
Mark Oliver: Gustave le Grand
Nicole Oliver: Cheerilee, Crystal Pony #1, Fleur Dis Lee, Princess Celestia (speaking, singing), Spitfire (S01E16), Twinkleshine (S01E01, first line)
Madeleine Peters: Scootaloo (speaking, singing)
Jan Rabson: Mulia Mild
Jerrica Santos: "A Friend for Life"
Rebecca Shoichet: Sunset Shimmer, Twilight Sparkle (singing)
Veena Sood: Ms. Harshwhinny
Tabitha St. Germain: Auntie Applesauce, "Cadet #2", Comet Tail, Crystal Pony #2, Derpy (S02E14), Dr. Hooves (Pegasus, S01E16), female voice (S03E12), Granny Smith (speaking, singing), Gravy Boat (S03E10; also listed in credits of S03E12 on DVD), Meadow Song (Pegasus, S01E16), Mrs. Cake, The Olden Pony, "Pearl", Photo Finish, "Pony #1" (S03E06), Pound Cake, Princess Luna, Rainbowshine (S01E16), Rarity, Shoeshine (S02E11), Twinkleshine (S01E01, third line), Wild Fire
Chantal Strand: Diamond Tiara, "Spectator #1" (S03E04)
Tara Strong: Twilight Sparkle
Jayson Thiessen: Professor Bill Neigh, royal guards (S01E22, S02E20), "Snowflake", "Vigilance"
Lee Tockar: "Beaver Foreman" (S03E05), "Shopkeeper", Snips, Steven Magnet
Vincent Tong: Flash Sentry, Garble, Joe, Prince Blueblood
Samuel Vincent: Flim (speaking, singing)
Cathy Weseluck: Amethyst Star (S02E08), "Berry Pinch" (S02E23), Cherry Berry (S02E04), Cloudchaser (S02E22), construction pony (S04E03), Crystal Pony #3, Flitter (S02E22), Laughing Pony (S03E13), "Librarian", "Little Pony", Dr. Mane Goodall, Mayor Mare, Meadow Song (S03E03), messenger (S03E12), Minuette (S02E25), "Nurse Sweetheart", "Post Haste" (S02E14), Spike (speaking, singing), Truffle Shuffle (S02E23), Twinkleshine (S01E01, second line)
James Wootton: Mule
Chiara Zanni: Daring Do/A.K. Yearling
Danish
Dutch
Finnish
French
German
Hungarian
Italian
Japanese
Norwegian
Polish
Brazilian Portuguese
Swedish
Spanish (Latin America)
Promo Dubs - Demo (DVD) Version
Characters with singing voices
Legend
Most famous dubbing voice actors and people
Recognized dubbing voice actors by My Little Pony
Dubbing voice actors who are currently dubbing characters voice
Dubbing voice actors who dub characters in few episodes
Character with more dubbing actors
Dubbing voice actors who aren't currently working in My Little Pony dubbing
Retired dubbing voice Actress
Characters and Dubbing Voice Actors(resses)
Note: She is the only US dub actress.