Celestia's Ballad, or Princess Celestia Sings[1] is the fifth of the seven songs featured in Magical Mystery Cure. Princess Celestia sings to Twilight Sparkle that she has fulfilled her destiny, and that every day she's been watching over her studies. It is the first song in which Princess Celestia has a singing role. Celestia's Ballad has music and lyrics by Daniel Ingram.
Lyrics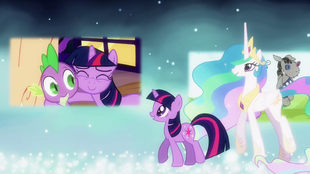 [Princess Celestia]

You've come such a long, long way
And I've watched you from that very first day
To see how you might grow
To see what you might do
To see what you've been through
And all the ways you've made me proud of you
It's time now for a new change to come
You've grown up and your new life has begun
To go where you will go
To see what you will see
To find what you will be
For it's time for you to fulfill your destiny
References
↑ The Hub's Sing-Along Saturday - "Magical Mystery Cure" Lyrics Sheet. Hubworld (2013-06-11). Retrieved on 2013 June 20.