Celestial Advice is the first episode of season seven of My Little Pony Friendship is Magic and the one hundred and forty-fourth overall. Notably, this is the first season premiere to not be a two-part episode.
Production
This episode is to be included in the Shout! Factory DVD My Little Pony Friendship Is Magic: Twilight And Starlight.[1]
Summary
"Twilight Sparkle agonizes over Starlight Glimmer's future and receives some much-needed advice from her very own mentor – Princess Celestia."[2]
Quotes
For more quotes, see the episode's transcript.
Discord: I may have let it slip that you'd be unveiling your big plan for Starlight tonight. Silly me. But we're all very excited to hear what you've cooked up. [beat] You weren't coming up with a plan just now, were you? Oh, dear. This could be pretty embarrassing for you.
Twilight Sparkle: [sarcastically] Gee, thanks, Discord.
Discord: Any time. I really love being helpful.
Discord: [referring to Starlight] Darn it. I was hoping you'd send her to my realm. We could've been roomies. Way to not pick up what I was putting down.
Trixie: How do you wanna celebrate? Girls' trip to Las Pegasus?
Thorax: We could throw you a changeling gourd fest! Uh, it's more fun than it sounds.
Gallery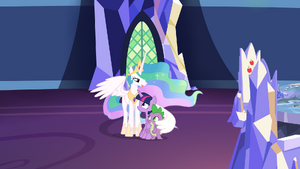 References
↑ My Little Pony Friendship Is Magic: Twilight And Starlight. Shout! Factory. Retrieved on 2017 February 16. Archived locally.
↑ Jared Albert (2017-03-15). New Family Bonds and Magical Friendship Adventures Await in Discovery Family's My Little Pony: Friendship is Magic Season Seven Premiere on Saturday, April 15 at 11:30a/10:30c. Discovery Family Channel. Retrieved on 2017 March 15.
Season seven
Episode 1
Celestial Advice
Episode 2
All Bottled Up
Episode 3
A Flurry of Emotions
Episode 4
Rock Solid Friendship
Episode 5

Episode 6

Episode 7

Episode 8

Episode 9

Episode 10

Episode 11

Episode 12

Episode 13

Episode 14

Episode 15

Episode 16

Episode 17

Episode 18

Episode 19

Episode 20

Episode 21

Episode 22

Episode 23

Episode 24

Episode 25

Episode 26

Ad blocker interference detected!
Wikia is a free-to-use site that makes money from advertising. We have a modified experience for viewers using ad blockers

Wikia is not accessible if you've made further modifications. Remove the custom ad blocker rule(s) and the page will load as expected.