Geri is the placeholder name of an elderly male Earth pony with a tan coat, two-tone gray mane and tail, deep green eyes, and a cutie mark of a golf club and two golf balls.
Design
Geri shares his design and mane and eye colors with "
Commander Redfeather
", his design and eye color with
S06E08 Unnamed Earth Stallion #8
, his body type and eye color with "
Fetter Keys
",
Rusty Tenure
, and
S07E10 Unnamed Earth Stallion #3
, his body type with
S05E06 Unnamed Earth Stallion #20
and
Grand Pear
, and his cutie mark with sometimes "
Buzzard Hooffield
".
Depiction in the series
Geri first appears in the series' remastered title sequence in season two, riding the
Friendship Express
train.
In The Cutie Pox, he loses a game of chess against Apple Bloom when she becomes afflicted with cutie pox. In The Mysterious Mare Do Well, Geri appears with other elderly ponies on a balcony. When the balcony breaks and falls, Geri and the other elders are saved by Rainbow Dash. In Putting Your Hoof Down, Geri has a speaking role opposite Fluttershy as he buys asparagus in the Ponyville marketplace.
In season three, Geri briefly appears in Sleepless in Ponyville looking out a second-story window as Scootaloo sails through the air on her scooter.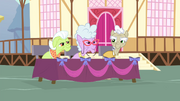 In season four, Geri appears on the Ponyville Days festival selection committee in
Simple Ways
, attends
Flim and Flam
's miracle tonic demonstration in
Leap of Faith
, welcomes
Twilight Sparkle
to the
Rainbow Falls
Traders Exchange in
Trade Ya!
, and appears in the
Crystal Empire
stadium in
Equestria Games
.
In season five, Geri appears very briefly at the beginning of Slice of Life standing alongside Dance Fever.
In season seven, Geri briefly appears in A Flurry of Emotions as a patient at Ponyville Hospital. In The Perfect Pear, he appears as a young stallion in multiple flashbacks. In Once Upon a Zeppelin, he appears as one of the cruise attendees.
Depiction in Equestria Girls
In
My Little Pony Equestria Girls: Friendship Games
, Geri's human counterpart appears sharing a bus ride with
human Twilight Sparkle
.
In the half-hour special Mirror Magic, Geri briefly appears with Pearly Stitch at the Canterlot Mall movie theater.
In the
Summertime short
Coinky-Dink World
, he shares a table with "
Chelsea Porcelain
".
Appearances
Other depictions
Geri appears on My Little Pony: Friends Forever Issue #27 pages 17 and 19.
Quotes
Fluttershy: Oh, pardon me, sir–
"Geri": Yes, what?
Fluttershy: I think you just cut in front of me.
"Geri": A cut of celery? But– this is the asparagus stand!
Fluttershy: I said [into ear trumpet] I think you just cut in front of me.
"Geri": Ohoh, no need, dearie, I'm already in front!
Gallery