Hoity Toity
Kind
Earth
Sex
Male
Residence
Canterlot
Occupation
Fashion critic
Hoity Toity
is a fancy
Earth pony
and a major representative of the fashion world from
Canterlot
. The term "hoity toity" means "self-important, haughty, or pompous". Hoity Toity's character design is strongly reminiscent German fashion designer
Karl Lagerfeld
in the style of his mane and clothing. His accent is the stereotypical
upper class American
accent.
Depiction in the series
Edit
Hoity Toity first appears in the episode Suited For Success, having arrived in Ponyville to see Rarity's fashion show. Having seen her "perfect" dresses, which are much-revised versions of the original designs, he gives a very critical review, calling the dresses "a piled-on mish-mash of everything but the kitchen sink". This almost ends Rarity's career, until her friends convince Hoity Toity to come back and give her another chance. In contrast to the first fashion show, when he sees Rarity's original ensembles, he is very impressed and recommends featuring her clothes in his fashion boutique in Canterlot, requesting a dozen more of each dress to be created "by next Tuesday".
"Hello… Oh, this can't be the same designer."
— Hoity Toity
In Green Isn't Your Color, his distinctive voice can be heard during Fluttershy's fashion show.
Hoity Toity also makes a cameo during the song Becoming Popular (The Pony Everypony Should Know), next to Sapphire Shores, in the episode Sweet and Elite.
Other depictions
Edit
My Little Pony mobile game description
Edit
This fashionable pony knows a good dress when he sees one, especially the ones made by Rarity!
Merchandise
Edit
A Hoity Toity miniature collectible is included in the Famous Friends Set with Photo Finish and Rarity.[2]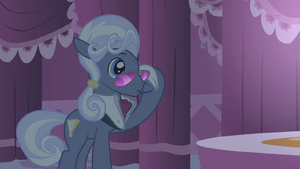 References
Edit
↑ Trevor Devall interview. The Dennis Daniel Show (2012-07-13). Retrieved on 2012 July 26.
↑ My Little Pony Friendship is Magic Famous Friends 3-Pack Rarity, Photo Finish & Hoity Toity Pre-Order ships October. ToyWiz.com. Retrieved on 2012 September 19.