Joe is a unicorn and a baker that appears in the episodes The Best Night Ever, MMMystery on the Friendship Express, and Just for Sidekicks. In the first he is addressed as Pony Joe by Spike, and in the second as Donut Joe by Twilight Sparkle, and simply as Joe for the remainder of that episode.
Depiction in the series
Edit
Joe first appears in The Best Night Ever as the owner of a donut shop in Canterlot. Twilight Sparkle and Spike state that they were frequent customers of Joe while they resided in Canterlot. His shop also sells coffee; in some areas of the world, "joe" is slang for coffee. This likely served as inspiration for his name.
He next appears aboard a train to Canterlot in MMMystery on the Friendship Express with his own dessert to enter into the dessert competition: a mini city made of doughnuts he dubs "Doughnutopia". He gloats about its glory and is confident that it will reign superior over the competitor's entries, including the Cakes' Marzipan Mascarpone Meringue Madness.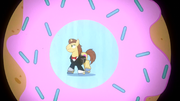 Joe is later blamed by Pinkie Pie for sabotaging the Cake's cake with a wild theory involving him doing so as a spy reminiscent to James Bond. Shortly thereafter, he's proven innocent by Twilight, who, with basic reasoning, proves Pinkie Pie's account to be a preposterous accusation.
Shortly later, he eats the éclairs being entered into the contest by rival chef Gustave while his own entry is reduced to ruin by baker Mulia. Fortunately for him and the other bakers, what's left of the desserts is combined together at Pinkie's suggestion, creating a dish that ultimately wins the dessert contest with flying colors.
Joe appears to be a friendly and prideful baker, seeing his confidence in his dessert entry to win him first prize. When he is proven guilty of eating Gustave's éclairs, he reveals it was not out of spite, but rather because of how Pinkie Pie described it in such a beckoning manner. He sincerely compliments Gustave.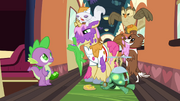 He appears in Just for Sidekicks with a train's refreshment trolley, one which subsequently gets knocked over by the main characters' pets. He confronts Spike, who is pet-sitting them all, and demands recompense, forcing Spike to pay up with one of his gemstones.
Other depictions
Edit
Joe, along with a host of characters from the show, appears on the Comic Con 2011 promotional poster. A fan-designed faux-advertisement sold on WeLoveFine depicts a sign saying "Pony Joe's" and "open 24 hrs", and another design created for Saint Patrick's Day says "Pony O'Joes Irish Donut Pub" and "Est. 2010". My Little Pony Friendship Express Train™ Puzzle Adventure shows Joe in a screenshot from MMMystery on the Friendship Express. The game was released earlier than the episode was.
"Don't you think you've had enough? "
"Picking up the final all-important ingredient for my contest entry, "Donutopia!" And with these super-sprinkles, my donuts are going to dunk all the other lousy desserts, steal first prize, and make my donut shop famous, forever!"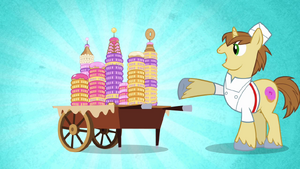 References
Edit
↑ Dusty Kat (2013-01-22). For those NOT in the know, @VincentTong007 is the voice of Prince Blueblood and pony joe in Best Night Ever, and also Garble in Dragon Quest. Retrieved on 2013 January 23.