Junior Speedsters Chant
Comments

52
679pages on
this wiki
The
Junior Speedsters Chant
is a
song
featured in
Griffon the Brush Off
.
Rainbow Dash
asks
Gilda
if she remembers the chant, and Gilda mentions that they had to recite the chant every morning at camp. Gilda reluctantly sings it with Rainbow Dash at her request. This is the shortest song in the season and the series itself, and the musical underscoring was created by William Anderson.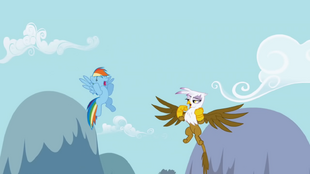 [Rainbow Dash and Gilda]

Junior Speedsters are our lives,
Sky-bound soars and daring dives
Junior Speedsters, it's our quest,
To some day be the very best!