Little Strongheart

Kind
Buffalo
Sex
Female
Residence
Tribe near Appleloosa
Other links
Little Strongheart is a young female buffalo who appears in Over a Barrel. Her name is in the style of a traditional, if stereotypical Native American name, a reference to the Native Americans' dependence on the buffalo. Her feathered headband is also part of the Native American motif shared among the buffalo herd.
History
Little Strongheart is first seen assisting her herd in hijacking a train car containing Bloomberg and Spike. Rainbow Dash attempts to confront her as she runs on top of the train, but Little Strongheart manages to avoid her by doing somersaults and weaves past her. Eventually, Rainbow Dash gets too caught up in the chase and crashes into a railroad post.
Little Strongheart is seen again at the Buffalo village. She apologizes to Rainbow Dash for her actions during the heist, justifying the tree-napping as an attempt to reclaim her herd's stampeding grounds, which the ponies of Appleloosa have claimed as an orchard. Her explanation convinces Rainbow Dash to join the herd's cause.
Her attitude towards Braeburn in their first meeting is very conciliatory, but Applejack and Rainbow Dash start an argument, precluding any agreement. After a fight between the townsfolk and the buffalo, an agreement is finally made. The herd stampedes away, with Little Strongheart bidding her new friends goodbye.
Gallery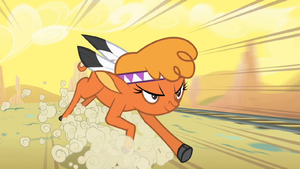 References
↑ Everfree Radio (2012-05-02). Interview: Ashleigh Ball. Retrieved on 2012 December 19.