| | |
| --- | --- |
| | This article may require copy editing for grammar, style, cohesion, tone, or spelling. You can assist by editing it. |
Noi
is the
placeholder name
given to a filly
Earth pony
seen in several episodes engaging in activities with other foals. Noi has a light golden coat, a light orange mane, and purple eyes. In
Call of the Cutie
, she sports many
cutie marks
, including a pillow, a magnifying glass, and a cupcake. In other episodes, she has no cutie mark at all. Noi shares her design with
Aura
and "
Piña Colada
".
Depiction in the series
Noi debuted in Call of the Cutie in class with a magnifying glass as her cutie mark, and at Diamond Tiara's party with a pillow (and later a chocolate ice cream) cutie mark. She is seen in Lesson Zero in Twilight Sparkle's vision. She is dressed as a fairytale princess during Luna Eclipsed, and gets candies from Twilight alongside "Piña Colada" and "Princess Erroria". She competes alongside Golden Harvest in the Sisterhooves Social. She watches Apple Bloom showing off her newfound hoop spinning abilities in The Cutie Pox. Noi is seen as part of the official Rainbow Dash fanclub in The Mysterious Mare Do Well, and receives an autograph from Rainbow Dash in the next scene. She is also cheered up by Pinkie Pie in A Friend in Deed, during the Smile Song. She is not part of the newspaper team in Ponyville Confidential, but she has a speaking role in the schoolyard, and appears on a poster in the Crusaders' club house. She appears only once during season three in the final episode Magical Mystery Cure, in the background during the Life in Equestria song.
She appears in Flight to the Finish, Rainbow Falls, Pinkie Pride, Simple Ways, Filli Vanilli, Twilight Time, and Inspiration Manifestation in season four.
Appearances
Times are approximate and taken from videos with no prolonged transition for commercial breaks.
Season one
1
None
2
None
3
None
4
None
5
None
6
None
7
None
8
None
9
None
10
None
11
None
12
0:05 ~ 2:03 - at the back of Cheerilee's class; 2:44 - leaving the Ponyville Schoolhouse; 15:32 ~ 20:06 - at Diamond Tiara's cute-ceañera
13
None
14
None
15
None
16
None
17
None
18
None
19
None
20
None
21
None
22
None
23
None
24
None
25
None
26
None
Season two
1
None
2
None
3
5:08 - in Twilight's fantasy of magic kindergarten; 10:55 - jumping rope with "Berry Pinch" and "Piña Colada"
4
0:37 ~ 1:12 - getting candy from Twilight; 1:39 - walking with Pinkie Pie, Granny Smith, and other foals; 3:07 ~ 3:14 - with Pinkie and other foals; 4:16 - in the crowd listening to Mayor Mare; 4:47 ~ 6:02 - listening to Zecora's story; 6:30 ~ 6:40 - running away from Princess Luna; 7:46 - screaming and running away; 11:27 - approaching Fluttershy's cottage; 11:34 - running away from Fluttershy's cottage; 13:43 - arrives looking for Pipsqueak; 13:48 - screams and runs away again; 15:32 - in the crowd after Luna cancels Nightmare Night; 16:40 - appears on-screen briefly with Sunshower Raindrops; 18:26 - with Pipsqueak, "Princess Erroria", and "Piña Colada"; 18:42 - listening to Mayor Mare; 18:59 - listening to Applejack; 19:03 - approaching Nightmare Moon statue; 19:14 - hears Luna's voice; 19:27 - screams and runs away again; 19:55 - hiding from Luna; 20:53 - cheering for Luna; 20:57 - giving candy to Luna (all appearances are in princess costume)
5
16:08, 16:23 - at the Sisterhooves Social with Golden Harvest; 17:00 - approaching Granny Smith; 17:22 - listening to Granny Smith; 17:26 - walking to the starting line; 17:30, 17:43 - at the starting line; 17:48, 17:49 - running in the race; 18:22 - pushing bale of hay with Golden Harvest
6
7:05 - on the school playground; 8:47, 8:58 - admiring Apple Bloom's loopty-hooping; 9:14 - next to "Shady Daze"; 10:32 - next to "Berry Pinch"; 10:39 - when Apple Bloom's second cutie mark appears; 10:50, 10:56 - next to Aura; 11:09 - watching Apple Bloom spin plates
7
None
8
0:11, 0:24, 0:54 - in the Rainbow Dash Fan Club; 5:03, 5:48 - hearing Rainbow Dash talk; 5:53, 5:58 - sees Pinkie Pie run away; 6:05 - admiring Rainbow Dash; 6:11 - has her picture taken with Rainbow (blue eyes); 6:22, 6:37, 6:42 - in line for Rainbow's autograph; 16:39 - dressed like Mare Do Well
9
None
10
None
11
None
12
None
13
None
14
2:43 - at Applejack's sendoff party
15
None
16
None
17
2:19 - in Cheerilee's class
18
3:19 ~ 3:49 - cheered up by Pinkie Pie during Smile Song; 3:59 - watching Pinkie Pie jump rope
19
1:42, 4:45 - with Golden Harvest in the Ponyville marketplace
20
None
21
None
22
None
23
6:12, 19:37, 19:45 - reading the Foal Free Press; 6:26 - looking at Snips and Snails; 6:39 - playing outside with "Princess Erroria"
24
None
25
None
26
None
Season three
1
None
2
None
3
None
4
None
5
None
6
None
7
None
8
None
9
None
10
None
11
None
12
None
13
15:26 - in flashback of Lesson Zero; 21:07, 21:17 - in the crowd during Life in Equestria
Season four
1
None
2
None
3
None
4
None
5
4:33 - leaving the schoolhouse
6
None
7
None
8
None
9
None
10
4:14 - trotting with Liza Doolots
11
None
12
1:35 - in the Ponyville marketplace with Golden Harvest; 3:03 - with other ponies during Pinkie the Party Planner; 6:14 - seen during The Super Duper Party Pony; 13:02 - watching Pinkie Pie and Cheese Sandwich's goof off; 19:50 - trotting near a hippo; 20:23 - seen during Make a Wish
13
0:34 - shushing Pinkie Pie at the Ponyville Days Festival announcement; 0:50 - listening to Mayor Mare; 0:58, 1:03 - smiling at Rarity; 1:08 - looking at Spike; 16:27 ~ 16:47 - listening to Rarity
14
6:58 - in the turkey call competition crowd
15
3:02 ~ 3:40 - watching Diamond Tiara's display; 4:16 - in Sweetie Belle's fantasy; 8:18 ~ 9:19, 12:57 - admiring the Cutie Mark Crusaders; 11:06 ~ 11:37 - watching Twilight from outside the Hay Burger; 11:54 ~ 12:05 - admiring Twilight Sparkle; 14:46, 14:49 - part of an angry mob of foals; 16:13 ~ 18:06 - with Twilight and other foals in the Golden Oak Library
16
None
17
None
18
None
19
None
20
None
21
None
22
None
23
0:19 - standing next to Aura
24
None
25
None
26
None
Gallery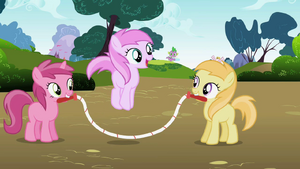 See also