Nurse Redheart
Kind
Earth
Sex
Female
Residence
Ponyville
Occupation
Nurse
Nurse Redheart
is the
placeholder name
of a female
Earth pony
nurse in
Ponyville
. She has a white coat, pink mane dressed in a bun, and blue eyes. She wears a nurse's hat. Her cutie mark is a red medical cross with hearts in each corner, and the emblem on her hat shares the same design. She shares the same coat, mane, and eye colors as
Nurse Sweetheart
, a G1 Earth pony from 1994, though they don't have the same cutie mark.
Depiction in the series
Edit
Nurse Redheart makes her first appearance in Applebuck Season alongside "Nurse Tenderheart", tending after sick ponies in a medical ward. She thanks Twilight Sparkle for coming to the ward and says "we need all the help we can get" while a pan shot of the overcrowded ward shows multiple sick ponies lying in beds or on the floor curled up, and squirming, with Nurse Tenderheart standing by one's bedside.
She next appears in the episode Baby Cakes at the hospital nursery. She tells Pinkie Pie to quiet down several times when Pinkie tries to sing to Pound Cake and Pumpkin Cake right in the nursery. When Pinkie doesn't comply, she forcefully pushes her back to the visiting area where the rest of her friends are. Nurse Redheart is depicted as impatient with troublemakers but at the same time caring for the babies she is looking after.
Appearances
Edit
Nurse Redheart appears in Applebuck Season and Baby Cakes. She does not appear in the episode Read it and Weep, which takes place in the same hospital as Baby Cakes, but three other nurses are present, "Nurse Sweetheart", "Nurse Coldheart", and "Nursery Rhyme". These other nurses use a similar cutie mark design as Nurse Redheart, but with a white cross instead of a red one.
Merchandise
Edit
A mini-figure toy of her was leaked in early May 2013.[2]
She appears on the fan-designed WeLoveFine T-shirt "Nurse Redheart".
Nurse Redheart: Oh thank you, Twilight. We need all the help we can get.
Twilight Sparkle: Oh no! What happened?
Nurse Redheart: It was a mishap with some of the baked goods.
Pinkie Pie: This is the greatest day ever! We need to celebrate your birthday, babies, 'cause you were just born today! Woohoo!
Nurse Redheart: Shhh. The babies are trying to sleep.
Pinkie Pie: But I was just–
Nurse Redheart: Shhh.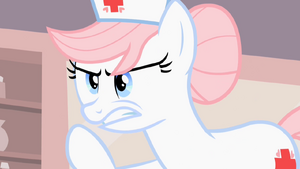 References
Edit
↑ Possible Nurse Redheart on the Way?. Equestria Daily (2013-05-04). Retrieved on 2013 May 4.