Piña Colada
is the
placeholder name
given to a filly
Earth pony
seen in several episodes engaging in activities with other
foals
. She has a pale pink coat color, a pink mane, and blue eyes. In
Call of the Cutie
, she is seen with many
cutie marks
, including a cupcake, a palm tree on an island, and an apple core. However, in other episodes she has no cutie mark. Piña Colada shares her design with "
Noi
" and
Aura
.
Depiction in the series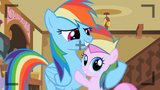 Piña Colada first appears in
Friendship is Magic, part 1
. In
Call of the Cutie
, she appears in
Cheerilee
's class with a cupcake
cutie mark
and later at
Diamond Tiara
's party with a palm tree on an island and an apple core for cutie marks. At one point, there are two versions of her on opposite sides of the room, shown in successive shots. Piña Colada appears in Twilight's vision of magic kindergarten in
Lesson Zero
with a unicorn horn. She is dressed as a ladybug in
Luna Eclipsed
, and Twilight gives her candy along with "
Noi
" and "
Princess Erroria
". She also competes alongside
Berryshine
in
Sisterhooves Social
, where she is wearing a white t-shirt. Piña Colada is also seen in
The Cutie Pox
as she watches
Apple Bloom
perform. Piña appears in parts of the second meeting of the Rainbow Dash fan club in
The Mysterious Mare Do Well
and poses with her for a picture, again accompanied by "Noi" and "Princess Erroria".
Piña Colada appears next to Twinkleshine in both versions of the show's intro sequence. In the first version, they appear on the left side of the scene with Piña to the right. In the second version, they are on the train platform with Piña on the left. They also briefly appear next to each other at town hall in Friendship is Magic, part 1 and at the bowling alley in The Cutie Pox.
Piña Colada appears in the classroom, leaving the schoolhouse, and on the train in Flight to the Finish. She also appears in Pinkie Pride, Simple Ways, Filli Vanilli, Twilight Time, and Twilight's Kingdom - Part 2.
Appearances
Times are approximate and taken from videos with no prolonged transition for commercial breaks.
Season one
1
19:34 - in the crowd next to Twinkleshine
2
None
3
None
4
None
5
None
6
None
7
None
8
None
9
None
10
None
11
None
12
0:05, 2:03 - at the back of Cheerilee's class; 2:44 - leaving the Ponyville Schoolhouse; 16:33 ~ 20:06 - at Diamond Tiara's cute-ceañera
13
None
14
None
15
None
16
None
17
None
18
None
19
None
20
None
21
None
22
None
23
19:32 - in Rainbow Dash's flashback (Pegasus version)
24
None
25
None
26
None
Season two
1
None
2
None
3
5:08 - in Twilight's fantasy of magic kindergarten (unicorn version); 10:55 - jumping rope with "Berry Pinch" and "Noi"
4
0:37 ~ 1:12 - getting candy at Twilight Sparkle's doorstep; 1:39 - walking with Pinkie Pie, Granny Smith, and other foals; 3:14 - with Pinkie and other foals; 4:16 - in the crowd listening to Mayor Mare; 4:47 ~ 6:02 - listening to Zecora's story; 6:30 ~ 6:40 - running away from Princess Luna; 7:46 - screaming and running away; 11:27 - approaching Fluttershy's cottage; 11:34 - running away from Fluttershy's cottage; 13:43 - arrives looking for Pipsqueak; 13:48 - screams and runs away again; 15:32 - in the crowd after Luna cancels Nightmare Night; 15:48 - looking sad; 18:26 - with Pipsqueak, Noi, and "Piña Colada"; 18:42 - listening to Mayor Mare; 18:59 - listening to Applejack; 19:03 - approaching Nightmare Moon statue; 19:27 - screams and runs away again; 19:55 - hiding from Luna; 20:53 - cheering for Luna; 20:57 - giving candy to Luna (ladybug costume)
5
16:08 - in the pie eating contest with Berryshine; 17:00 - approaching Granny Smith; 17:22 - listening to Granny Smith; 17:26 - walking to the starting line; 17:30, 17:43 - at the starting line; 17:48, 17:50 - running in the race; 18:54 - balancing an egg on her nose; 19:02 - speeds past Rarity and Sweetie Belle; 19:08 - running to the finish line; 19:19 - at the finish line; 19:23 - carried off by ponies
6
1:41 - cheering for "Strike" in the bowling alley; 7:05 - on the playground next to "Tornado Bolt"; 8:00 ~ 8:43 - admiring Apple Bloom's loopty-hooping; 9:02 - holding a loopty-hoop; 9:55 ~ 10:19 - admiring Apple Bloom; 11:09, 11:15 - watching Apple Bloom spin plates; 11:34 ~ 12:24 - watching Apple Bloom in Ponyville
7
None
8
4:02 - in awe of Rainbow Dash; 5:17, 6:04 - hearing Rainbow Dash talk; 6:13 - has her picture taken with Rainbow
9
None
10
None
11
None
12
None
13
None
14
None
15
7:42 - in the crowd during The Flim Flam Brothers
16
None
17
None
18
3:52, 4:00 - jumping rope with Pinkie Pie during Smile Song
19
None
20
None
21
None
22
None
23
2:12 - leaving Cheerilee's class; 6:25, 6:26 - looking at Snips and Snails
24
None
25
None
26
None
Season three
1
None
2
None
3
None
4
17:14 - at the Summer Harvest Parade
5
None
6
None
7
None
8
None
9
None
10
None
11
None
12
2:48 - on the train to the Crystal Empire
13
15:26 - in flashback of Lesson Zero (unicorn version); 21:07 - in the crowd during Life in Equestria
Season four
1
None
2
None
3
None
4
None
5
1:08, 2:41 - in Cheerilee's class; 4:34 - leaving the schoolhouse; 16:58 - on the train to the Crystal Empire
6
None
7
None
8
None
9
None
10
None
11
None
12
6:14 - seen during The Super Duper Party Pony; 19:50 - riding a hippo; 20:23 - seen during Make a Wish
13
5:05 - at the train station
14
13:38 ~ 13:56 - at Zipporwhill's cute-ceañera
15
3:04 - watching Diamond Tiara's display; 4:08 - in Sweetie Belle's fantasy; 8:18 ~ 9:04, 12:57 ~ 13:08 - admiring the Cutie Mark Crusaders; 11:05 ~ 11:37 - watching Twilight from outside the Hay Burger; 11:54 ~ 12:19 - admiring Twilight Sparkle; 13:16 - catering to the Crusaders; 14:49, 15:04 - part of an angry mob of foals; 16:56 ~ 18:17 - with Twilight and other foals in the Golden Oak Library; 19:12 - watching the Cutie Mark Crusaders
16
None
17
None
18
None
19
None
20
None
21
None
22
None
23
None
24
None
25
None
26
20:57 - seen during Let the Rainbow Remind You
Gallery
See also