More info
Eyes

 

Very deep reddish brown
Mane
¤ Dark tangelo with lighter streaks
Coat
¤ White with grayish brown spots
Cutie mark
None
Voice
William Lawrenson (English)
Marjolein Algera (Dutch)
Christian Zeiger (German)
Balint Magyar (Hungarian)
Nathan Favalli (Italian)
Akiko Yajima (Japanese)
Úrsula Bezerra (Brazilian Portuguese)
Emilio Treviño (Latin American Spanish)
Pipsqueak
or
Pip
is a young
Earth pony
from
Trottingham
who dressed up as a pirate for Nightmare Night in
Luna Eclipsed
. He also appears very briefly in
Putting Your Hoof Down
, running in the background.
Design
As his name suggests, Pipsqueak is smaller than the other ponies. His coat has patches of color on it, unlike most ponies in the show who have a solid-color coat. The equestrian term for a light coat with dark patches is pinto pattern; one of the show's layout artists has stated that Pipsqueak is a pinto colt.
His name seems to be based on the character Pip from the famous novel "Great Expectations" by English novelist Charles Dickens.
History
Pipsqueak's first appearance was on the Comic Con 2011 poster. He can be seen in the Twinkling Balloon in the background.[1]
Pipsqueak later appears in Luna Eclipsed, collecting candy with a group of fillies, at Twilight Sparkle's library, wearing a pirate costume. During his first scene he speaks with a Cockney accent, but he drops the accent in later scenes. When he states it is his first Nightmare Night, Twilight asks if he means the first since he moved to Ponyville from Trottingham, and he replies that it is his first ever.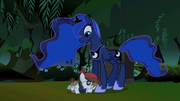 Pipsqueak joins a group of fillies chaperoned by
Pinkie Pie
, which follows
Zecora
while she tells the story of Night Mare Moon. When
Princess Luna
appears, he gets scared and dumps his candy in front of Night Mare Moon's statue along with the rest of the group and they all run off. The other time he is shown is when Princess Luna saves him when he falls into
Applejack's
water apple barrel. He is startled when Pinkie Pie said the Princess would "gobble" him and instantly runs off again. At the end of the episode, after he and several other
ponies
are playfully frightened by Princess Luna, he comes up to her and states that she is his favorite princess and hopes she can visit again next year.
He briefly appears running across the marketplace in the background in Putting Your Hoof Down.
Other depictions
My Little Pony mobile game description
Pipsqueak is a young Earth pony who hails from Trottingham.
Quotes
"Scary, but fun."
"Whoa! You're my favorite princess ever! She said yes, guys!"
Gallery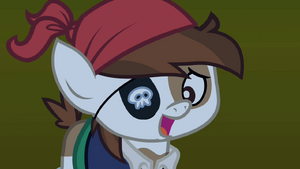 References
↑ Nayuki confirming that Pipsqueak appeared in the Comic Con poster (2011-10-22). Retrieved on 2012 February 10. Archived locally.