Ponyville Schoolhouse
Comments

15
681pages on
this wiki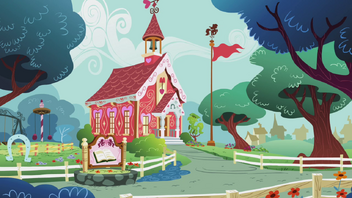 The
Ponyville Schoolhouse
is where the younger ponies of
Ponyville
go to school. The building sports a flagpole, a tower with a bell that rings to mark the start and end of classes, and a picture-sign on the lawn with an open book and the silhouettes of two rearing foals. There is a playground nearby and a stage further away. Classes for the foals are taught by
Cheerilee
. The office and printing room for the
Foal Free Press
is in the basement.
Inside the main building is Cheerilee's desk at which she teaches, a blackboard, bin, pull down screen, easel with flip-through large notepad, books on shelves, various paintings, a globe and many teaching aids. The desks and chairs, facing the front, are set in columns of 3 and rows of either 3 or 4 depending on the episode, for a total of either 9 or 12 desks and chairs. The desks have room for a book or paper and saddle bags lay at the side. The class seating arrangement varies throughout the series.
Appearances
Edit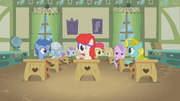 The schoolhouse first appears in a wide shot of Ponyville in the show's title sequence. It is first shown in detail in
Call of the Cutie
, where Cheerilee teaches her class about
cutie marks
. The schoolhouse then appears in
Feeling Pinkie Keen
,
The Show Stoppers
,
The Cutie Mark Chronicles
, and
Party of One
.
The schoolhouse later appears in The Cutie Pox, where Apple Bloom shows off her new-found talent of hoop-dancing after obtaining her first cutie mark - a hoop. Granny Smith delivers her story of the foundation of Ponyville to the class of fillies during Family Appreciation Day. In Hearts and Hooves Day, Cheerilee's class celebrates Hearts and Hooves Day by giving each other and Cheerilee valentines. In A Friend in Deed, the schoolhouse appears during the Smile Song. At the beginning of Hurricane Fluttershy, it appears in a wide shot of Ponyville. The schoolhouse makes its most recent appearance in Ponyville Confidential, where it serves as the headquarters for the Foal Free Press, the school's newspaper team.