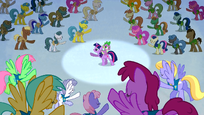 My Little Pony Friendship is Magic
features various
songs
throughout the show, as a theatrical element or simply woven into the regular narrative. This is a trend that has been in the
My Little Pony
television shows/direct-to-DVD films ever since Generation 1. The songs' lyrics on this wiki were transcribed by ear or from closed captions, and their titles are taken from
Daniel Ingram's website
or
Facebook page
when available; Otherwise, they are guesses or general descriptions. As of season three, the song titles are taken from their appearance in the
credits
.
Select songs from seasons one and two were made available in an official soundtrack release on iTunes and Google Play.
Song list
Multiple episodes
Season one
Episode
Song
Lead
Begins at
International versions
Friendship is Magic, part 2
Laughter Song
Pinkie Pie
7:44
International
The Ticket Master
Pinkie's Gala Fantasy Song
Pinkie Pie
6:05
International
The Ticket Song
Pinkie Pie
16:41
International
Dragonshy
Hop Skip and Jump song
Pinkie Pie
9:27
International
Bridle Gossip
Evil Enchantress song
Pinkie Pie,

Fluttershy

3:57 (Pinkie Pie), 14:47 (

Fluttershy

)
International
Winter Wrap Up
Winter Wrap Up
Main six, crowd
2:51
International
Call of the Cutie
Cupcake Song
Pinkie Pie
12:15
International
Suited For Success
Art of the Dress
Rarity, main six (reprise)
4:14, 9:18 (reprise)
International
Stare Master
Hush Now Lullaby
Fluttershy, Sweetie Belle
10:52 (Fluttershy), 11:13 (Sweetie Belle)
International
The Show Stoppers
Cutie Mark Crusaders Song
Cutie Mark Crusaders
16:13
International
Over a Barrel
You Got to Share, You Got to Care
Pinkie Pie
13:46
International
The Cutie Mark Chronicles
So Many Wonders
Fluttershy
7:51
International
Party of One
Pinkie Pie's Singing Telegram
Pinkie Pie
0:39
International
The Best Night Ever
At the Gala
Main six, crowd
4:09
International
I'm at the Grand Galloping Gala
Pinkie Pie
10:23
International
Pony Pokey
Pinkie Pie
15:19
International
Season two
Episode
Song
Lead
Begins at
International versions
May the Best Pet Win!
Find A Pet Song
Fluttershy, Rainbow Dash
3:25
International
Sweet and Elite
Becoming Popular (The Pony Everypony Should Know)
Rarity
8:58
International
Hearth's Warming Eve
The Heart Carol
Choir
20:14
International
Baby Cakes
Happy Monthiversary
Pinkie Pie
2:30
International
Piggy Dance
Pinkie Pie
9:09
International
The Super Speedy Cider Squeezy 6000
The Flim Flam Brothers
Flim, Flam, Granny Smith, crowd
4:57
International
Hearts and Hooves Day
The Perfect Stallion
Cutie Mark Crusaders
3:10
International
A Friend in Deed
Smile Song
Pinkie Pie, crowd
3:00
International
Cranky Doodle Donkey
Pinkie Pie
7:10
International
Welcome Song
Pinkie Pie
10:19
International
Cranky Doodle Joy
Pinkie Pie
21:16
International
A Canterlot Wedding - Part 1
B.B.B.F.F.
Twilight Sparkle, main six (regular)
3:29, 20:40 (reprise)
International
A Canterlot Wedding - Part 2
This Day Aria, Part 1 (Cadence Aria)
Queen Chrysalis, Princess Cadance
4:04
International
This Day Aria, Part 2
Queen Chrysalis
14:15
International
Love Is In Bloom
Twilight Sparkle
20:02
International
Season three
Equestria Girls movie
Season four
Daniel Ingram has confirmed a range of "15-20 new songs in #mlpseason4, including characters who have never sang[sic] before",[1] such as Princess Luna and DJ Pon-3,[2] and Meghan McCarthy has mentioned "16 brand new songs in #MLPseason4"[3] and that "The CMCs get to sing and be completely adorkable in #MLPseason4".[4]
Unknown
On October 1, 2013, Daniel Ingram tweeted "Recording with ponies and @Steflang pic.twitter.com/oDMohzpMsr"[5] and Stef Lang tweeted in reply ""@dannyimusic: Recording with ponies and @Steflang pic.twitter.com/yKgd2HABUw" I'm a pony! I'm a pony!"[6]
Other musical elements
In addition to background music, several musical pieces have been used in the show that are not counted as full songs, according to "The Musical Pony" complete song lyrics in Little, Brown's official My Little Pony Friendship is Magic guidebook My Little Pony: The Elements of Harmony. These include:
Junior Speedsters Chant and the Crystal Empire cheer both have backing music.
The same closing theme is played over the credits of every episode except The Return of Harmony Part 2, A Friend in Deed, A Canterlot Wedding - Part 2, and Magical Mystery Cure, all of which have unique themes (the part 2 themes are very similar).
Awards
Becoming Popular (The Pony Everypony Should Know) and Find A Pet Song were nominated for the 39th Daytime Emmy Awards.[7]
Gallery
See also
References