There's a Pony For That
Length
0:31
There's a Pony For That is a parody video released by The Hub in July 2011.[1] It is a play on the "There's An App For That" iPhone commercial.
It consists of a male announcer with a similar voice to the one in the iPhone commercials. On the screen, a hoof, that appears to belong to Twilight Sparkle, scrolls through pages. All of the apps on the screen are parodies of existing web-sites, media or real iPhone applications. DJ Pon-3's name is spelled "DJ Pon3" in this commercial.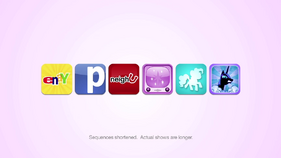 Applications
References
↑ Angela Watercutter (2011-07-08). My Little Pony Ad Parodies 'There's an App for That'. Wired.com. Retrieved on 2013 April 17.
Ad blocker interference detected!
Wikia is a free-to-use site that makes money from advertising. We have a modified experience for viewers using ad blockers

Wikia is not accessible if you've made further modifications. Remove the custom ad blocker rule(s) and the page will load as expected.