Tornado Bolt
is the
placeholder name
of a 
Pegasus
filly
with a light grey coat, purple mane and tail, and light green eyes. She appears with tornado and horseshoe
cutie marks
in
Call of the Cutie
and with a light bulb cutie mark in
Twilight Time
, but without any cutie mark at all in other episodes. She shares her design with "
Princess Erroria
" and
Cotton Cloudy
.
Depiction in the series
Season one
Tornado Bolt's first appearance is in season one in the episode
Dragonshy
, where she's briefly seen as an
Earth pony
with no cutie mark playing with other foals at
Ponyville
Park. In
Call of the Cutie
she is seen with a tornado cutie mark, talking to
Lyra Heartstrings
and a filly in the streets of Ponyville, later among the crowd of foals at
Diamond Tiara
's cute-ceañera, and once as an Earth pony with a horseshoe cutie mark. In
The Cutie Mark Chronicles
, she is seen in the race audience in
Rainbow Dash
's flashback, cheering excitedly with a pink filly that shares her design.
Season two
In season two, Tornado Bolt appears in a total of eleven episodes, mostly as a background pony for brief shots. She appears as one of the foals in Twilight's nightmarish kindergarten vision in Lesson Zero. In The Cutie Pox, she has a lengthy scene among the Ponyville Schoolhouse foals watching Apple Bloom perform. She is seen in a crowd in The Mysterious Mare Do Well, standing with two mares in the background in Secret of My Excess, standing next to Fluttershy in the crowd in The Last Roundup, in wonder at the cider machine with two adult ponies and two foals in The Super Speedy Cider Squeezy 6000, and standing with Derpy in an aerial shot in Hearts and Hooves Day.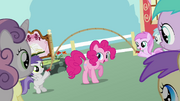 In
A Friend in Deed
, she skips rope with some other foals and joined by
Pinkie Pie
during her
Smile Song
. She also appears as one of the foals mocking young Fluttershy in a flashback in
Hurricane Fluttershy
, in line for
Snails
' autograph in
Ponyville Confidential
, and in two scenes in
A Canterlot Wedding - Part 2
: cornered into an alley with
Dr. Hooves
and
Golden Harvest
by
changelings
, and later in the crowd watching
Princess Cadance
and
Shining Armor
stepping into their wedding carriage.
Season three
In season three, Tornado Bolt appears briefly in One Bad Apple and Games Ponies Play. In Magical Mystery Cure, she is in the background during the song Morning in Ponyville, although without her cutie mark and wings, and in the next scene as one of the ponies glaring at Rarity.
Season four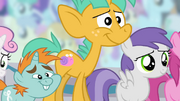 In season four, Tornado Bolt appears in
Flight to the Finish
,
Pinkie Pride
,
Simple Ways
,
Filli Vanilli
,
Twilight Time
,
It Ain't Easy Being Breezies
,
Leap of Faith
,
Trade Ya!
, and
Equestria Games
.
Season five
In season five, Tornado Bolt appears in The Cutie Map - Part 1, The Lost Treasure of Griffonstone, and Slice of Life. At the end of Rarity Investigates!, Tornado Bolt watches the Wonderbolts' performance.
Appearances
Times are approximate and taken from videos with no prolonged transition for commercial breaks.
Season one
1
None
2
None
3
None
4
None
5
None
6
None
7
1:46 - appears in Ponyville Park (no wings)
8
None
9
None
10
None
11
None
12
4:54 - interacting with Lyra Heartstrings in the Ponyville marketplace; 15:36 ~ 20:12 - at Diamond Tiara's cute-ceañera

Duplicates: 20:00

13
None
14
None
15
None
16
None
17
None
18
None
19
None
20
None
21
None
22
None
23
6:14 - flying through Cloudsdale in Fluttershy's flashback; 7:11 ~ 7:24 - watching the race in Fluttershy's flashback; 18:27 ~ 18:38 - watching the race in Rainbow Dash's flashback; 19:32 - watching Rainbow Dash's sonic rainboom

Duplicates: 19:32 - two in the background

24
None
25
None
26
None
Season two
1
None
2
None
3
5:08 - in Twilight's fantasy of magic kindergarten
4
None
5
None
6
7:05 - on the playground next to "Piña Colada"; 7:08 - next to Aura; 7:17, 7:23, 7:46 - admiring Apple Bloom's cutie mark; 8:00 ~ 8:54 - admiring Apple Bloom's loopty-hooping; 9:02 - holding a loopty-hoop; 9:55, 10:19 - admiring Apple Bloom; 10:39, 10:43 - when Apple Bloom's second cutie mark appears; 11:09, 11:15 - watching Apple Bloom spin plates; 11:34 ~ 12:24 - watching Apple Bloom in Ponyville; 16:12 - watching Apple Bloom's cutie pox go out of control; 19:21 - listening to Apple Bloom tell the truth
7
None
8
2:20 - watching Rainbow Dash save Aura; 3:13, 3:27, 3:33 - in the crowd praising Rainbow Dash
9
None
10
6:20 - in the background with Rainbowshine and Apple Bumpkin (no wings)
11
None
12
None
13
None
14
3:36 - at Applejack's sendoff party
15
7:42 - in the crowd during The Flim Flam Brothers
16
None
17
4:11 - in Ponyville Town Square
18
3:52, 4:02 - jumping rope with Pinkie Pie during Smile Song; 5:37 - in the crowd during final chorus (no wings); 11:29 - listening to Pinkie's announcement
19
None
20
3:41 - next to Apple Cobbler (no wings); 4:02 ~ 4:18 - listening to (and laughing at) Twilight
21
None
22
6:07, 6:11 - in Fluttershy's flashback; 9:11, 9:18 - on the Pegasi training field
23
6:22 - in line to have her Foal Free Press copy autographed; 8:53 - on the playground with "Cotton Cloudy"; 19:37 - reading the Foal Free Press
24
None
25
None
26
14:29 - cornered by changelings with Dr. Hooves and Golden Harvest; 20:36 - watching Princess Cadance and Shining Armor leave
Season three
1
None
2
None
3
None
4
12:54, 15:47 ~ 17:14 - at the Summer Harvest Parade
5
None
6
None
7
None
8
None
9
None
10
None
11
None
12
18:06 - at the Crystal Empire train station
13
0:23 - standing in Ponyville with Golden Harvest; 2:00 - in the crowd grumbling at Rarity; 15:26 - in flashback of Lesson Zero
Season four
1
None
2
None
3
None
4
None
5
1:08 - in Cheerilee's class; 4:32 - leaving the schoolhouse; 12:04 - performing a routine with a Pegasus version of "Berry Pinch"; 16:58 - on the train to the Crystal Empire
6
None
7
None
8
None
9
None
10
None
11
None
12
1:20 - standing next to Berryshine; 5:58, 6:14 - seen during The Super Duper Party Pony; 13:05, 14:12, 14:38, 16:32 - watching Pinkie Pie and Cheese Sandwich's goof off
13
0:22, 0:53 - at the Ponyville Days Festival announcement; 9:39 - in Ponyville next to Sweetie Drops
14
12:24 - galloping past a pen of animals; 13:38 ~ 13:56 - at Zipporwhill's cute-ceañera; 16:26 - watching the Ponytones perform; 16:48 - watches Fluttershy reveal herself; 16:57 - cheering for Fluttershy
15
3:04 ~ 3:21 - watching Diamond Tiara's display; 8:18 ~ 9:05, 12:55 ~ 13:08 - admiring the Cutie Mark Crusaders; 11:06 ~ 11:37 - watching Twilight from outside the Hay Burger; 11:54 ~ 12:19 - admiring Twilight Sparkle; 13:16 - catering to the Crusaders; 14:19 - outside Diamond Tiara's front gate; 16:50, 18:29 - with Twilight and other foals in the Golden Oak Library; 18:45 - watching the Cutie Mark Crusaders; 19:20, 19:29 - covered in applesauce
16
4:18 - watching the Breezies fly through Ponyville; 5:21 - gasping in horror
17
None
18
None
19
None
20
14:49 - walking with Sassaflash; 18:21 - watching Granny Smith's high dive
21
None
22
5:31 - in front of a Traders Exchange stall
23
0:19 - standing next to Aura
24
4:40 - in the Equestria Games crowd (with one duplicate)
25
None
26
None
Season five
1
5:29 - walking with two "cutie unmarked" ponies; 6:07, 6:10 - welcoming the Mane Six to the village; 14:22 - listening to the Mane Six argue
2
None
3
None
4
None
5
None
6
None
7
None
8
16:25 - in Gilda's flashback
9
5:59 - observing the Mane Six
10
None
11
12
13
14
15
Yes, watching the Wonderbolts
16
17
18
19
20
21
22
23
24
25
26
Gallery
See also