Welcome!
Please sign whenever you vist my talk page or just my user page in general.
Signatures
First? :)  Steph physarum (talk)

19:41, September 1, 2013 (UTC)
I typed "first", but then there was an edit conflict. Well played, Fiesah.  The Candlekeeper talk   
   19:42, September 1, 2013 (UTC)
Hello, Doop!
PowerStar89 Talk 02:16, September 7, 2013 (UTC)
Beep TheUltimateH4M Talk 21:50, November 3, 2013 (UTC)
Hi
RegularBoyz
Spit it out here  17:37, December 10, 2013 (UTC)
I know we don't know each other much, but haya :3 KoolPrincessLunakaLunie (talk) 00:44, December 24, 2013 (UTC)
I once went on a plane with a creeper. It didn't end well.
 The Bunker Guy talk   
   02:05, January 22, 2014 (UTC)
Hi?
 Shadowfox90 talk  blog   
  Shadowfox 06:59, January 24, 2014 (UTC)
Just for Randomness!!!
Nailah 
BOOM!!!  You've just been Klepto'd! talk 
Hey!
Seaswirl10 Talk 02:33, June 4, 2014 (UTC)
Hey there, doopliss! :D  Amelia the Writer 
21:39, July 24, 2014 (UTC)
This page has been invaded by

Flutter The Butter

21:16, November 9, 2014 (UTC) Please evacuate and run to safety.
YouTube Channel
I'm a novice Let's Player. My channel is called Prince Doopliss (even though I said I'm bored with that name, but hard to forget about my first ever username)
Here is a Sample of one: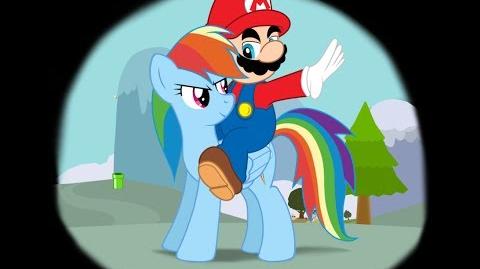 No, this video has nothing to do with Mario and RD, it is just RD.
Favorite MLP Characters
1. Rarity-What can I say, she is beautiful and funny. While I'm not into fashion, her pride for it is great. I mean really there are things we are really attach to and enjoy a lot so yeah. There is more to it, but that is all I'm going to say.
2. Applejack-Okay, in the past not many people like her, but now days I think things have change since then. Well Applejack is a great character. This is another character with great humor and well she is a nice hard worker and really struggle to be honest a lot times. Trust me it can hard to be honest. Really what is wrong with not sticking with your element, she isn't the only one. Okay, now I'm just rambling and time to move on to the next one.
3. Princess Celestia-Another character that is overlooked. Okay, people call her useless for what? Really a ruler of a kingdom can't do everything, she wants ponies to figure out problems on their own. Really we seen that she isn't much of a great fighter. So why should she take on the baddies when she is no longer attach to the elements?
4. Cheese Sandwich-First of all he is voiced by Weird Al. Second of all he is a fun character, very funny and well what is there not to like about him.
Still Under construction.