Another review on time!
Liked
The CMC's play was awesome!
NIGHTMARE! >:D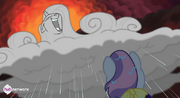 Remind you of
something?
Disliked/Sins
Sweetie Belle, Princess Luna, and I haven't found anything. So have a picture of epicness!
Final Score
And the final score is...
10/10
This is one of the best episodes in season four. It really developed Sweetie Belle.
Next week's episode:
"Leap Of Faith"