I'm so inspired right now that I want to make this blog post!
Liked
So, Spike is Aladdin?...
Rarity's favorite ice cream flavor is revealed.
This scene.
Disliked/Sins
Nothing here, so have a scary Rarity face!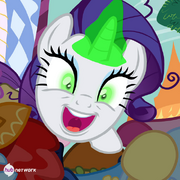 Final Score
And the final score is...
10/10
So inspired...
Next week's episode:
"Equestria Games"