Oh no! The Breezies made me delay this post!
Liked
Flutters was
so
cute in this episode.
Seabreeze was pretty awesome in this episode.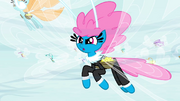 The Mane Six as Breezies were pretty awesome.
Disliked/Sins
Nothing here, so have my favorite Breezie of all.
Final Rating
And the final rating is...
10/10
Whew! Guess the Breezies didn't stall me while I was writing this! Or did they...?
Next week's episode:
"Somepony To Watch Over Me"