Finally! A review on time! :D
Liked
Bum bum BUM!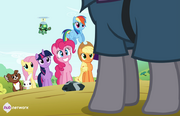 Maud Pie is awesome! :D
This scene.
Disliked/Sins
Maud and I found nothing here, so have a picture of her and Pinkie!
Final Rating
And the final rating is...
10/10
Bye, Maud! Hope we see ya next season!
Next week's episode:
"For Whom The Sweetie Belle Toils"