Yet another article on time!
Liked
Twilight Sinister Sparkle returns...
Pinkie Pie has another counterpart! :D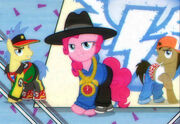 Rainbow Professionalism Dash returns! (I need to think of other things I like from this episode other than pony counterparts...)
Disliked/Sins
Nothin' here. Have Twilight and Rainbow in the library.
Final Score
And the final score is...
10/10
I need to stop writing about counterparts.
April 19's Episode:
"Trade Ya"