I'm late... D:
Liked
Discord
! :D
Discord's Song
!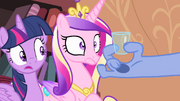 The Tatzlwurm!
Disliked/Sins
It seems like everything in this episode is perfectly fine, so have this.
Final Rating
And the final rating is...
10/10
Aaaaacchooooo! Looks like I've come down with the Blue Flu! Or did I?
Next week's episode:
"Pinkie Pride"