Well, this is it... This will cover both the first part and the second part.
Liked
This scene.
Epic battle scene! >:D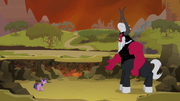 A certain
somepony
returns! <3
Disliked/Sins
Finally, an episode from season four has provoked me to include sins. Three, to be exact.
1.This song was
really
stretching the truth, wasn't it? (+1 Sin)
2.These designs for Rainbow Power look
really
tacky...except for Pinkie and Flutters. (+1 Sin)
3.This song made me cringe...and remember the lost Golden Oaks Library. (+1 Sin)
Final Rating
And the final rating is...
5/10
Man. This time, I was really disappointed. This finale could've done a lot better in my opinion. By the way, all of my "positive" scores in my past blogs in this series I just really liked. Some of them were liked more than others, but I still gave them a 10/10 score. Hope you guys understand now. By the way, I'm also going to create a blog with things I'd like to see in MLP: FiM Season Five and beyond! Goodbye!