Initially freaked out.
Liked
CMC return once again!...Growing plants?
Thy return of Pipsqueak. 'Nuff said.
Pool party! :D
Disliked/Sins
Nothing to be found here, so have a sketch of Twilight's findings on the mysterious box.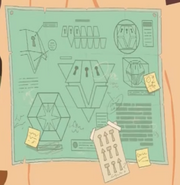 Final Rating
And the final rating is...
10/10
Welp. Guess Twilight will have to move.
Next week's episode:
"It Ain't Easy Being Breezies"