"Royal Friend?"
"Eeyup. We lost touched each other at three years ago..."
I thinking for a while, and decide to castle for reaching her wish, Score and Skyla were agreed as well. But I suddenly felt nervous, some cold sweats ran out from my forehead, wondering somepony was watch over us... then I quickly followed up with my friends. When we leaves, that pony was walked out from the dark side, and she feels a tinge of evil around him.
"Your power soon will be MINE..." She scold evilly behind me.
During on the way to the castle, Bright Sky told to me that her royal friend is a Natural-born Alicorn. I was shocked when I heard about her royal friend.
"Wait, I know her before, but now I forgot her..."
"Nope, she didn't forget you recently...
"What do you mean?"
"You'll see what I mean when you two met each other..."
I'm still confused.
When we passing by a tunnel, the entrances and exits has suddenly closed, and 8 levers suddenly appears...
Something's not right. Something's...NOT RIGHT......
T2T #34 : Which lever should they pull/or continue on?
R01 - 12.5% (1 vote)
R02 - 12.5% (1 vote)
R03 - 37.5% (3 votes)
L04 - 25% (2 votes)
R04 - 12.5% (1 vote)
Voting is over!
Xtra : My OC v1.0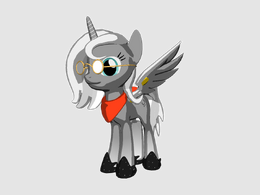 OC Name : Daylight Flare (abandoned)
Gender : Female
Pony Type : Alicorn
Cutie Mark : A blackcrown 
Shading : Toon
Modeling : 3D
Software : "Pony Creator 3D" by PonyLumen
Profile usage day(s) : 6 (22.04.2016 - 28.04.2016)
Hope to hear your reaction about my OC!
Connect link : http://equestriagirls.wikia.com/wiki/User_blog:Choong57/My_Very_First_3D_OC