I'm making a blog because I'm bored and have nothing better to do. I tried my best to be creative, since creativity is something that I lack.
Wow, it feels like a million years since I edited anything on this Wiki... (excluding the chat)
Rules:
You must comply to the rules. Otherwise, either your entry will be void or you will be disqualified.
You may only rename each pony once.
Reply to my (the blog mod's) comment (with the picture of the pony) to submit a name.
No ridiculous or unfitting names, such as "Zoosmell Pooplord" or "Farmstink Buttlass."
How to play
I will put a picture of a pony from the show, and you must rename it based on its cutie mark, personality traits, or attributes.
After a certain amount of names are given to the pony, I will choose the name that I like the most.
The winner of the round is the user who submitted the pony name that I chose. I will post the winner's username in the "Winners" section.
For example: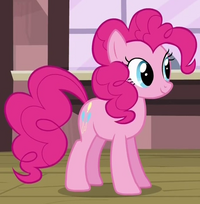 Wiki user 1: I give this pony the name "Party Balloons."
Wiki user 2: I give this pony the name "Balloonie."
[several more wiki users try to rename the pony.]
Me (blog mod): I think that [insert Wiki user's name here]'s name is the best. Congrats!
Of course, gameplay has many chances of being funnier than the example given.
Winners
Round #1 Winner: No winner yet.
Aaaaand... that's it.
Have fun, all~