Before you're panic or overreacting, listen this music first.
Song : Flutterwonder by PinkiePieSwear.
Okay, where I should start?
So you know about Spike become a dog in Equestria Girls, right? let's check this picture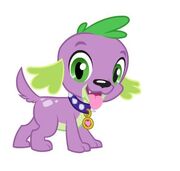 It's just looks weird when talking ponies become human and the talking dragon become a dog. Ironic yet funny. I mean seriously, why Spike must be a dog and not become a kid? but hey! it's Hasbro & the animators decision, so we can't change anything what they make. And I just think it would be hilarious if Spike meets Winona in EG. :p
Okay then, let's go to the question and a poll.
are you agree/like about Spike as a dog in EG or not?
That's it. I'm going now, you can give a comment too on this post. see ya!