And that's it everyone. The polls are closed and the results stand as they are. I was honestly surprised the songs that made it to the top six and even more surprised by the winner. Perhaps this means in the near future, Hasbro might do something about the animatic and allow the crew to finish it for music video purposes.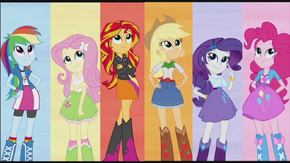 On a side note, I found that on average that about six to ten voters participated after the first round of polls. I was a little disappointed by the turn out when the last generated almost twenty or more. I really would like to know why. Is it truly because it wasn't your favorite, or is it becoming to stale? I ask your opinion for a reason. It's so that I can give you all what you want. If nothing is feeding me opinions, then I just assume there's nothing wrong.
But we'll get to that later. Right now, lets have a look at some of our fallen and reflect on what might have been.
Honorable Mentions
Your Thoughts
As usual my first question is what di you think? Did you, the participant like or not. If you didn't, tell why so that things can be better in the future. This goes especially if you pick "Could've been better."
What did you think of the poll series here?
How long would you like for me to keep the polls open after they're posted? If you picked "Other" please specify.
Is there another poll theme you wish? If you picked "Yes" please tell me what you want in the comments below.
Finally, the poll series will definitely do the songs from the show and the movies combined next, but that won't happen until after all five songs from Season 7. However, I'm still pondering if I should include the songs from the upcoming movie in October which means it would be a long wait for the poll series to start.
Do you want the songs from the movie in the next set of polls too?