Well, the votes have spoken. Our winner for this series is Trixie as the minor villain that left a strong impression on the fandom. Come on, was there ever any doubt? But let's not forget the other minor villain who caused problems of their too. These honorable mentions left their mark too.
Top Three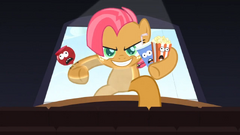 Honorable Mentions
Opinion Polls
This was a good turnout for the Poll Series. We had a reasonable amount of voters and expending the voting by one day remedied a good portion of it. Only a week until the show starts back up, and about three months until the upcoming film's release. I'm excited. As I said before, the Song Polls will begin some time after the film's release. Until then, see you in October.
What did you think of this poll series?
How much are anticipating the Songs Poll?
What was your reaction to the movie trailer?
Are you ready for the second half of Season 7?