Welcome to the another "Dub Battle" folks!
Previously, Japanese dub is going to the "True Finale", while Greek and Korean are eliminated on this tourney.
And, the tourney is nearly over. So, check it out!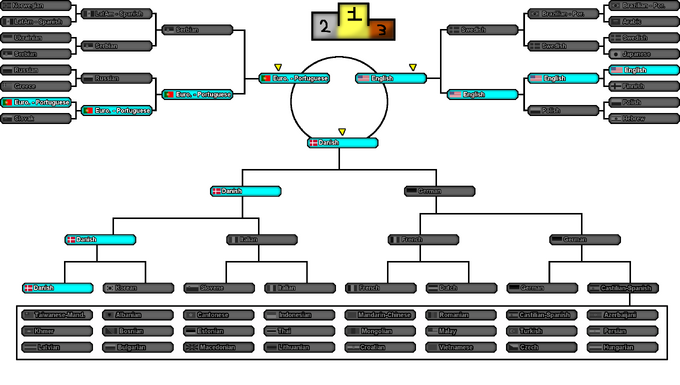 Besides Danish's "Say Goodbye to the Holiday" has "Lie in cool Hell" at 1:58 and "Shake Your Tail" song has "Stop that lose" misheard lyrics. In "You'll Play Your Part" dubbed song, They sing slightly weak.
In "Apples of the Core" of European-Portuguese dub, Granny Smith sounds like she has low octave. and "Cafeteria Song" has "Butt too ban toll cow gear dot" at 2:33.
Alright! Voting is now over. Here are the results.
European-Portuguese - 1
English - 3
Danish - 0
It's predicted.. Fellow Wikian's. The English vs. Japanese dub folks. Then, Danish and European-Portuguese dub are eliminated on this tourney.
International Dubs Tourney
Noobcomers Round(Part 1) • Noobcomers Round(Part 2) • Round 1a • Round 1b • Round 1c • Round 1d • Round 2a • Round 2b • Semifinals • Finals
Losers Bracket: Round 1a • Round 1b • Semifinals • Finals