There it is.. The Losers Bracket of the "Dub Battle".
Instead of "Pony Arena Tourney" and "Pony Song Tourney", I announce for Multilanguage version of this Tourney, including the most popular dubs like English and Japanese.
But. How could this happen? Why Japanese dub get thrown on here, because lack of votes?
And, lets check it out!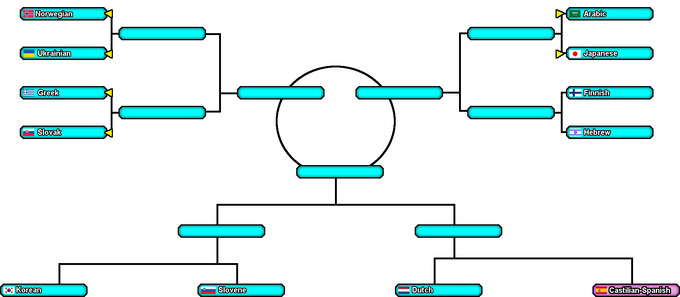 For "The Perfect Stallion" in Slovak, I don't think why CMC voices sounds like 17-year-old woman?
Ukrainian's "The Spectacle" song has a flaw, because her voice sounds autotune and/or much like a vocaloid in some parts, besides the notorious S1-4 songs, which is voiceover.
I don't have any unique details for Greek, Norwegian, Japanese and Arabic dub. besides "Good" and Japanese is "Amazing".
Norwegian - 2
Ukrainian - 1
Greek - 1
Slovak - 1
Arabic - 1
Japanese - 1
Sudden Death!
I choose the Greek dub. (Sorry Slovak)
And, because Japanese dub is amazing, I select this one. (Sorry Arabic)
Here lies, Ukrainian, Slovak and Arabic dub.
You have a good effort on it, but you lose for this tournament.
International Dubs Tourney
Noobcomers Round(Part 1) • Noobcomers Round(Part 2) • Round 1a • Round 1b • Round 1c • Round 1d • Round 2a • Round 2b • Semifinals • Finals
Losers Bracket: Round 1a • Round 1b • Semifinals • Finals