We asked for help and you answered! Check out the Original MLP Characters video below!
---
To celebrate the upcoming finale of Season Four of
My Little Pony Friendship is Magic
, Wikia is going to do a custom video for you, but we need YOUR help! Many fans have their own original character they've created out of love for the series and we want to celebrate these awesome characters! For example, we love this one from
Amelia The Writer
's profile that has a pen and paper for the cutie mark: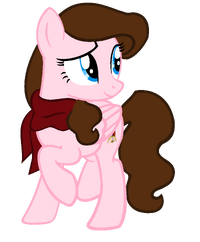 If you have an original character that you've developed for the world of Equestria, link us to the Original Character! Be sure to include your character's name, Cutie Mark, and any other information about the character that we should know (even the soundtrack if you have one)!
We'll celebrate these awesomely original ponies in the video so let's see who comes up with the most unique one! We'll pick from as many as we can to insert into a video which will also feature screens from Season Four. Submissions will be accepted until Monday, May 5th, so get started!
---
---