I've been seeing mixed views about Starlight Glimmer so I want to find out which is stronger in the fandom. (not that it means I'll change what I think, but still)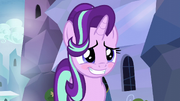 According to King Sombra's voice actor, Season 6 is still in production, so the rest of it isn't set in stone. Meaning we could still have an impact on later episodes if we want to see more or less of Starlight, same with Discord and Ember. (I don't know about you but I really appreciate shows with writers that care for the fans)
Some think that now we've seen Starlight in The Crystalling, she's adorable and easier to sympathize with as a reformed villain just like Sunset Shimmer, and that she opens up new possibilities to make Season 6 more interesting.
Others are afraid she'll flood the show and "change" it forever being one of the Mane 6, that she has no place in the heart of the show and doesn't deserve forgiveness, that her backstory was flimsy and her redemption was rushed (though Catrina's redemption in G1 was more rushed).
It's still unconfirmed whether she is one of the Mane 6. Aside from The Crystalling, we haven't seen all of the Mane 6 together all season. Starlight was with them on this occasion, but only to go to the Crystal Empire to reunite with Sunburst, and she was the main character of that episode. But Luna and Discord aren't Mane 6, Spike, or CMC and they were still main characters of an episode at least once (and we're all still hoping for one for Celestia)
So...
Do you like Starlight now she's reformed?
Do you want to see more of her in Season 6 beyond the two episodes she's confirmed for?
Do you want her to be one of the Mane 6 from now on?
Do you still wish she had died in The Cutie Remark?