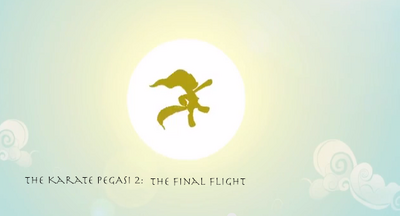 PLZ note that this is a joke meant for entertainment. Not a real movie. Things posted here are fake. ( like Discord being a pegasis ) 
---------------------------------------------------------------
Fluttershy and her sensei, Rainbow Dash are back, and Lord Discord the III has kidnapped Ninja Spike!  Fluttershy learns more from sensei and learns the secrets of the Pegasi in this four-star animated movie! Will Fluttershy save Spike? Or will Discord get the final Flight?
Reviews for The Karate Pegasi 2: The Final Flight:
A great film about pegasis fighting.  - Rotten Starfruit  9.6
I  HATE IT! Why am I- I mean.. DISCORD A PEGASIS? - Dis C. Ord  1/2 stars
I love Rainbow Dash as the sensei. - Ponyahoo! Reviews 7.8 
GALLERY COMING SOON!