Heeeeyyyy, everypony! It's Meester Tweester! Today I will be answering some of the questions asked in the comments of recent rounds. In other news, we have reached the halfway point: 10 rounds in with 46 episodes down, and about 10 more rounds with 44 episodes left to ban. Anyways, today we get to play the Episodic Pony War Game!
Template:Userpage/MPC (Music credit: In the Hall of Mountain King by Peter Gynt and Kevin Macleod)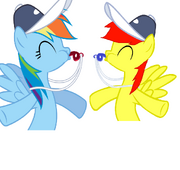 "Hey Meester? I have an idea for one of the future rounds. People can vote on a saved episode to put it up for being banned again. For example, GG saves Griffon the brush off for the umpteenth time, we could vote and it could be banned automatically? How's that for a twist."
-Crimson "Valent" Azure
WIth less episodes to save, I sense I need something to slow down the voting process so that rounds aren't over lightning-quick. But you gave me a great idea for a Halloween gimmick next round!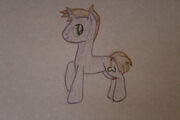 "Also, I'd like to give some suggestions about the game. The game will get really short after a while, so I think it'd the best to change the game. Once only a few episodes are left (about 10 should do it) we'd vote differently. Everybody can vote for only 1 episode per round and episodes can get multiple votes. The episode(s) that get the least votes will be banned. Each round should last for 3 days, that'll be enough for everybody to make a decision. Only 1 episode can win."
-Epicalaxy Master
Hmmm... it's a good idea, especially the ones with the least votes ending up banned instead of those with the most votes. I made a schedule to the end, actually. I actually have the rest of EPWG scheduled out, and I'll consider this method when there are very few episodes left.
Rules: You decide which episodes deserve to be aired again on the Hub Network/Discovery Family, while the rest will be banned! (Don't worry, it's just a game.) So, the first 45 episodes declared safe this round are, well, safe. The other four six seven six five will be banned. You cannot comment on an already safe episode, nor vote twice in a row. (i.e. wait for someone else to comment first).
Jeopardized Episodes for Round 10:
The first 40 episodes voted on are safe, so vote quick! This has been Meester Tweester, saying goodnight Ponyville!
Epic Pony War (the Hurt\Heal fanfic) is now live!