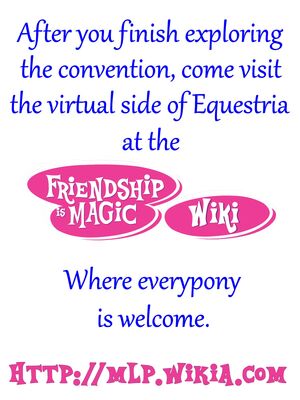 The Everfree Northwest convention just posted news today that advertisement space in the convention's souvenir book is now available. The sizes that are available are:
Quarter page ($50): 3"x4"
Half page ($90): 6-3/8"x4"
Full page ($160): 6-3/8"x8-1/4
According to the news page, the ad would have to be submitted by May 4th, and the ad has to be in PDF, JPG, AI (Adobe Illustrator) or PSD (Photoshop) format at 300dpi or higher.
If nobody objects, I'd like to put together a simple ad for the wiki. It wouldn't be too fancy, just something along the lines of "if you like the show, visit the wiki" and a couple of pictures. If someone can point me to where there's some high-resolution artwork that would be suitable, that would help, especially if there's a high-res version of the wordmark.
Or, if you guys like this idea and you've got some good artists/graphic designers amongst your members and you come up with a half-page or full-page ad, we can go with that.
Either way, I'll cover the cost of the ad, regardless of which size it is. Just my way of saying thanks for running a great wiki about a great show. It's an MLP-specific convention, so it should have an MLP wiki ad in it, don't you think?

For more information about the Everfree NW convention, check out my Two MLP conventions in Seattle blog that lists which guests from the show will be attending. I'm planning on being there for at least one of the days, possibly all three.

Note: the ad was retracted before it was published in the souvenir book.