Warning:
The following blog is by far the most random topic ever discussed in my blogs. Please read and respond it if possible, I put a lot into this one.
Okay bronies and pegisisers, I must tell the truth, I'm not writing this blog for fun. I'm not writing it for attention. I'm not even writing it for you guys and girls. I'm writing this blog for the love of the art of animation. It's almost as if I HAVE to. The subject is The Saga of Rex: The Animated Film.
Let me explain. I was searching around Youtube for new animated shorts and such. I came across this video called The Saga of Rex. It's the first part in a fully 2D animated film about a small fox's adventure on a different planet after being taken from Earth.
The story is based off a visual novel of the same name made by the same user by the name Michel Gagne. Michel Gagne is an incredible 2D animation special effects artist, whose worked on films such as The Iron Giant, Osmosis Jones, Ratatouille, and a majority of the Don Bluth films. He produced, directed, and animated the film thanks to a very successful Kickstarter campaign.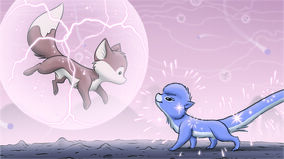 I usually wouldn't do something like this unless a work goes unnoticed that very much needs to be noticed. I can't tell you how much I enjoyed the first part of this ambitious project. The animation is very free flowing and gorgeous, the story is told with no dialogue which is very unique, and the music is just enchanting when shown with the environments and the scenarios. It makes way for a very strange but very nice experience.
So yeah to me, I feel like this is something I have to do. Because if he's doing it to be honorable to classic animation, I have to help spread this message. Take a look, and see if you like it or not. If you do, please come back to this blog and tell me what you thought of it. Hope to read you comments latter.