Heyoo everybody! I have made a game called Pony Bet Brawlers! This is a game where you place bets for a brawl between ponies by voting in the polls! Ready, set, brawl! Lets begin, shall we?
Round 1
Match 1: Twilight vs Pinkie Pie
TWI HAS WON MATCH #1

Match 2: Rainbow Dash vs Applejack
AJ HAS WON MATCH #2

Match 3: Fluttershy vs Rarity
RARITY HAS WON MATCH #3

Match 4: Scootaloo vs Sweetie Belle vs Apple Bloom
SWEETIE BELLE HAS WON!

Match 5: Princess Luna vs Princess Celestia
PRINCESS LUNA HAS WON MATCH #5

Match 6: Vinyl vs Octavia
VINYL HAS WON MATCH #6

Round 2
Match 6:Twilight Sparkle vs Applejack
APPLEJACK HAS WON MATCH 6!

Match 7: Rarity vs Sweetie Belle
RARITY HAS WON MATCH 7!

Match 8:Luna vs Vinyl
LUNA HAS WON MATCH 8!

Round 4
Match 9: Luna vs Rarity vs Applejack
APPLEJACK WON!

Other Not Important Stuff
Winner
Applejack has won! Yes, while some bronies say shes a background pony, Applejack can kick butt!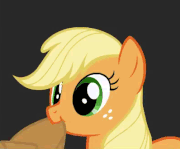 Losers 
Here are some ponies who didn't even beat the first brawl!
Scootaloo (boy did she try though)
Battle Themes
Suggest some in the comments!