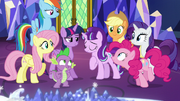 Hello everyone! I'm TheRailwayMaster, aka William, and here is a small blog that I wanted to make about the future of Starlight Glimmer.
As we all know, Starlight has learnt a valuable lesson about the true magic of friendship that involving unique talents and gifts making friendship strong. Now, she's become a student of Princess Twilight to learn more of friendship and she has made some new friends which appears to make her truly happy.
I've imagined several things that we might see from Starlight in her future and I'd like to share them with you with this poll below.
What do you think will happen with Starlight Glimmer in Season 6 and beyond?